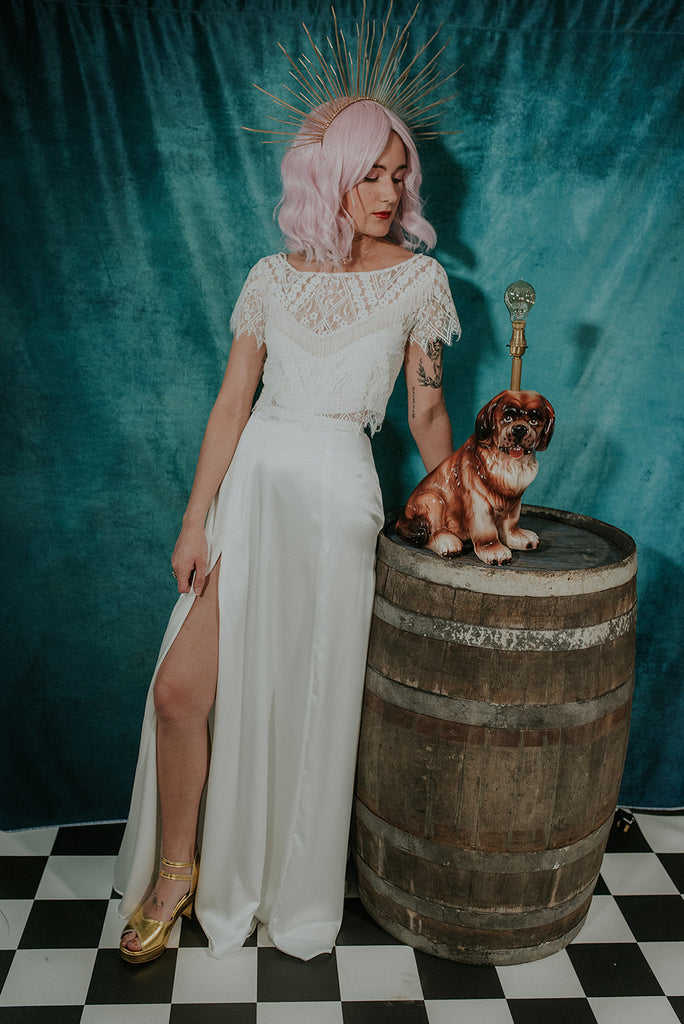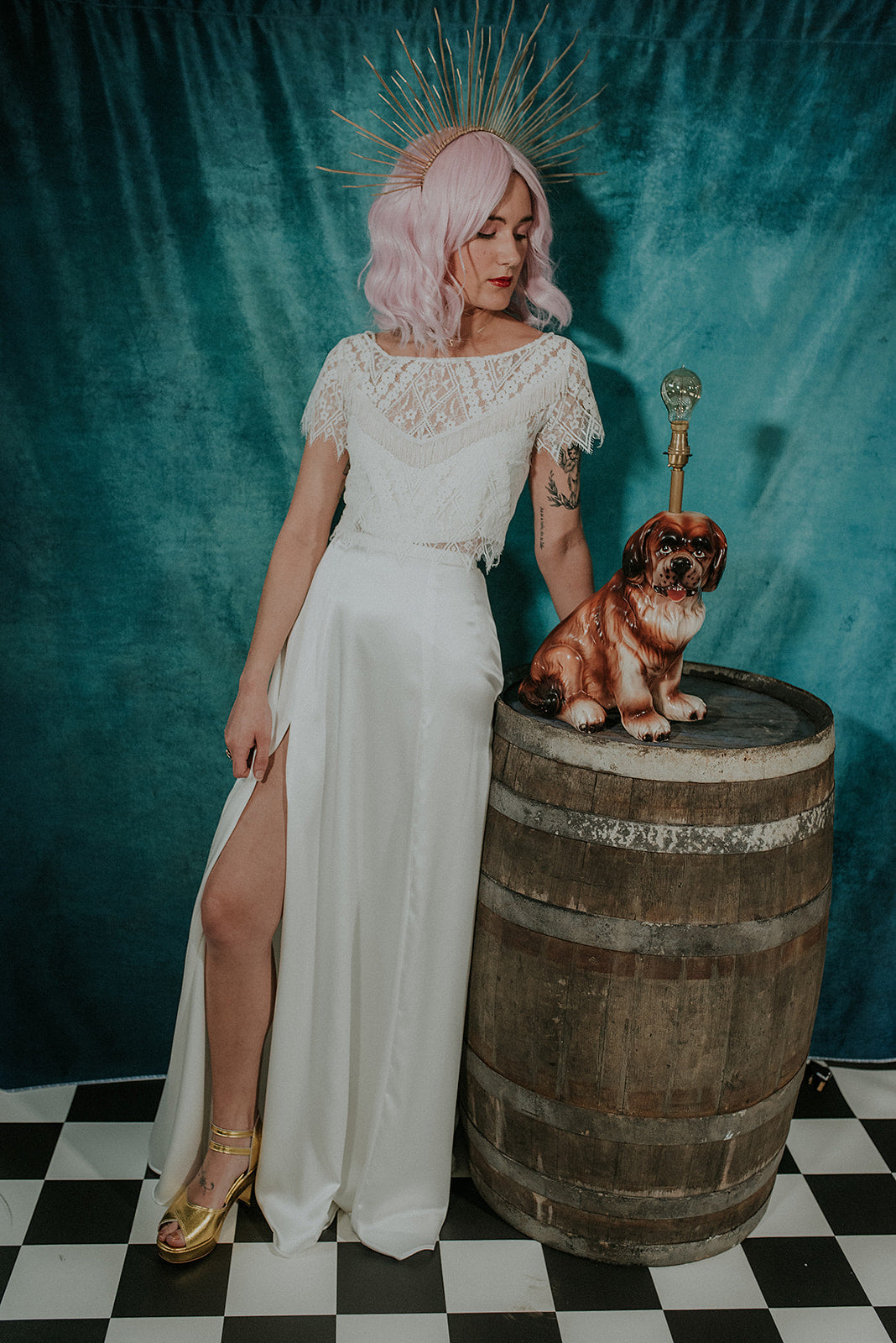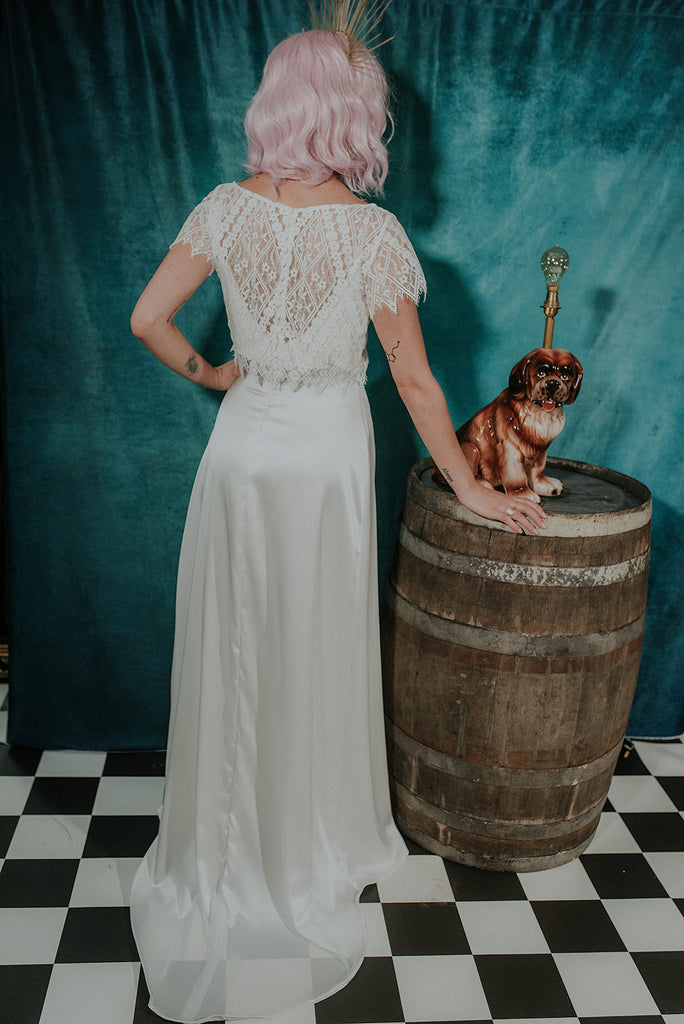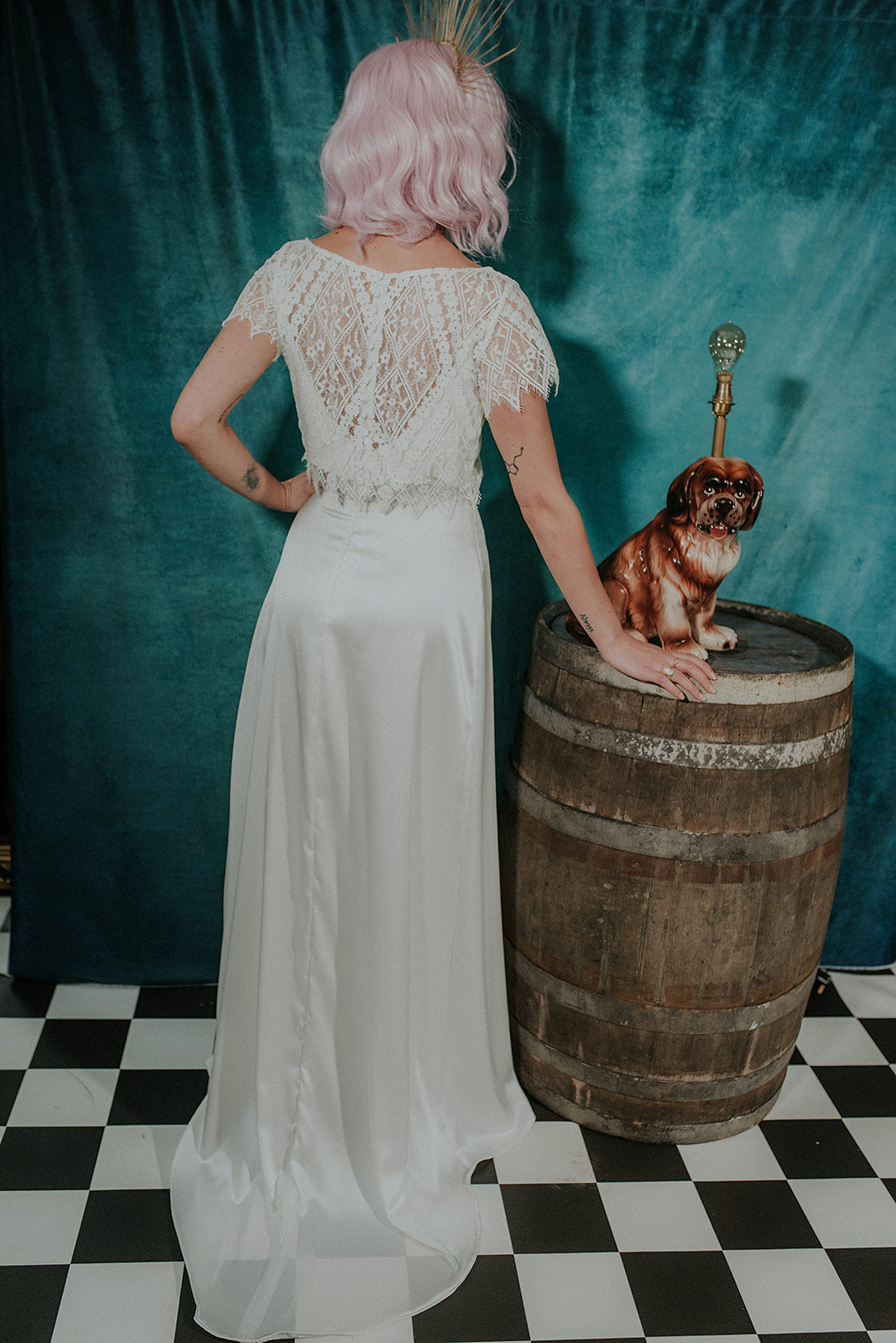 Deadshot Skirt
Made to order price
$2,384 inc. VAT
Made to measure price
$2,513 inc. VAT
Dress Description

This is the skirt version of our Deadshot dress. The slinky skirt is made from the most luxurious 100% silk fabric and feels absolutely incredible on your skin. The silk is double lined so it feels even better. We love the dramatic split which adds a dramatic feel to the skirt. All of our skirts can be paired with our HUGE range of lace tops!

 

 

All our dresses are handmade from scratch in our studio. This means you can alter any of the designs to suit your individual style and shape. We can change the sleeve length, necklines, dip dye colour, shape and much much more. Just email us or book an appointment to discuss your design.

Composition:

100% raw silk

Hand wash only – Please see our dress aftercare section for washing instructions here.

Make an Enquiry

Try on our sample

Please visit our studio to try on our full collection of dresses.

We stock dress sizes 10-26 in our studio.

We also stock some dresses in other bridal shops around the UK.

Please check our Stockist page for more information.

If you live too far away, we can create the perfect dress for you without you stepping a foot in the door. We offer zoom appointments where we can show you the dresses and talk you through the process. We then just need some measurements to ensure the best fit. We can send our dresses anywhere in the world.

Book an Appointment

Price & Information

All of the dresses are handmade from scratch in our studio. We put a lot of love and time into each dress. Every dress is made to order especially for each bride. Our designs can be altered to suit your individual style and shape.

Dip dye is included in the price of the dresses.

We offer two services:

Our 'Made to order' service is where your dress will be made in a standard size e.g 10, 12, 14. This service will not include alterations.

Our 'Made to measure' service is where we measure your whole body and make a pattern from scratch which will fit you like a glove.

We recommend a made to measure service for anyone who finds it quite difficult fitting into standard high street sizes.

Alterations are at an additional cost. These will depend on the work. They range from £20 to £300 depending on how major the work is.
Back to the Collection
Deadshot Skirt Lookbook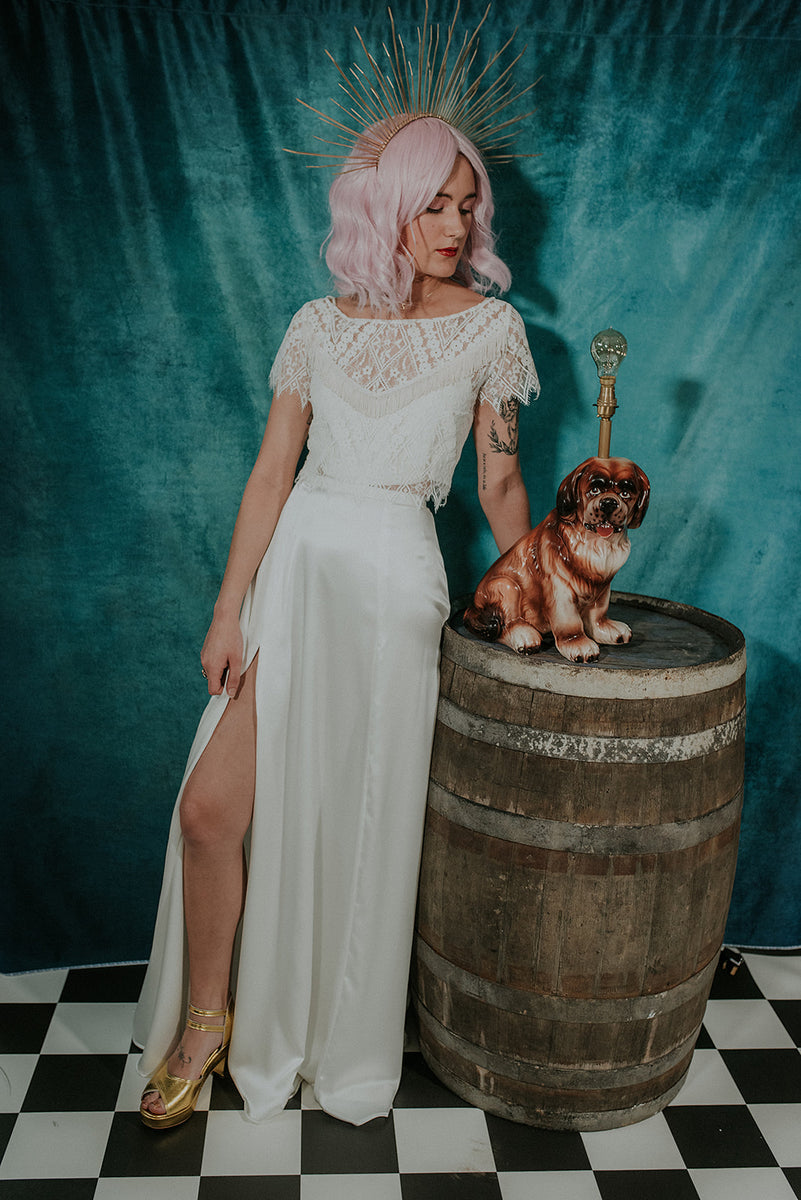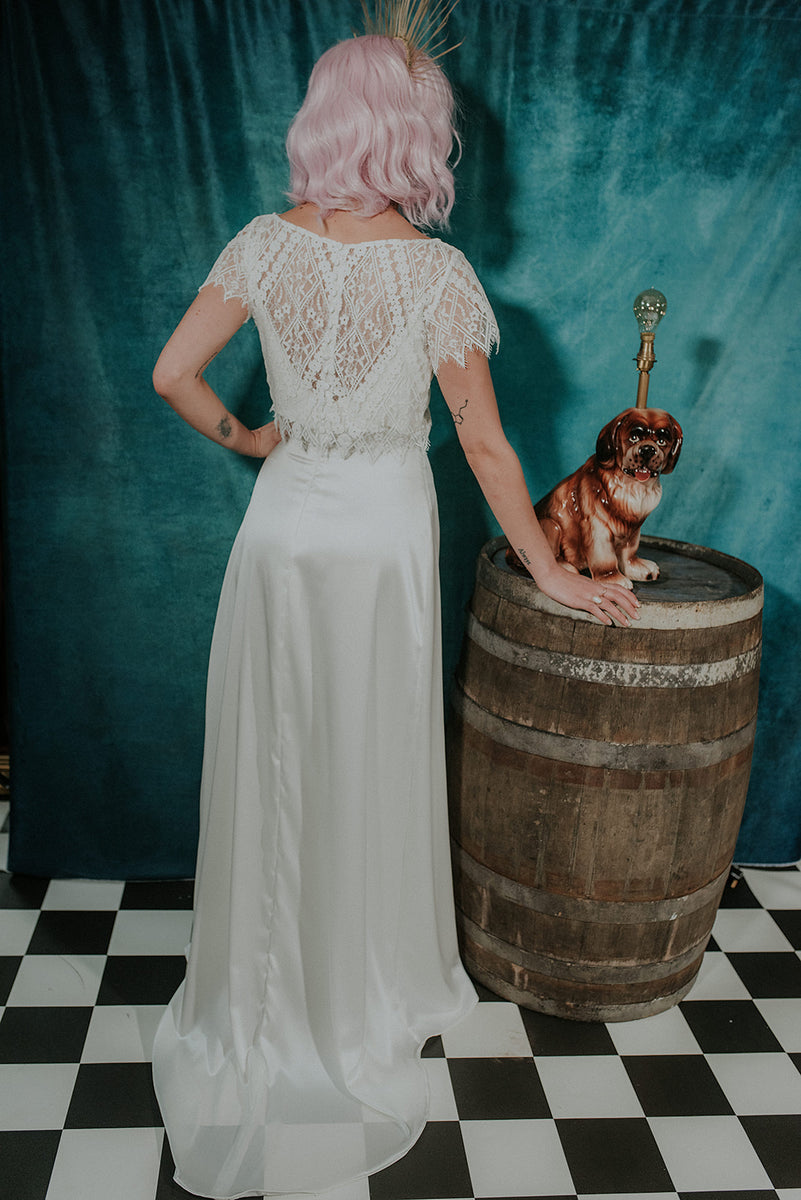 About Lucy Can't Dance
Lucy Can't Dance originated 6 years ago, in 2013 when I started making vintage inspired clothing. I always had a love for fashion and enjoyed dreaming up ideas and putting them into creations. Never would I have thought to make bridal wear. In 2015 a friend asked me to make her wedding dress, I decided to embrace the challenge, which I thoroughly enjoyed and that's when Lucy Can't Dance Alternative Bridal Wear began.